Posts for tag: mouthguards
By Princeville Dental
June 07, 2020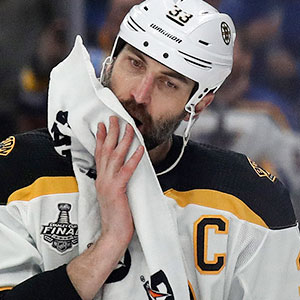 Boston Bruins defenseman Zdeno Chara had a rough Stanley Cup final against the St. Louis Blues this past June. Not only did the Bruins ultimately lose the championship, but Chara took a deflected puck shot to the face in Game Four that broke his jaw.
With the NHL season now over, the 42-year-old Bruins captain continues to mend from his injury that required extensive treatment. His experience highlights how jaw fractures and related dental damage are an unfortunate hazard in hockey—not only for pros like Chara, but also for an estimated half million U.S. amateurs, many in youth leagues.
Ice hockey isn't the only sport with this injury potential: Basketball, football (now gearing up with summer training) and even baseball players are also at risk. That's why appropriate protective gear like helmets and face shields are key to preventing injury.
For any contact sport, that protection should also include a mouthguard to absorb hard contact forces that could damage the mouth, teeth and gums. The best guards (and the most comfortable fit) are custom-made by a dentist based on impressions made of the individual's mouth.
But even with adequate protection, an injury can still happen. Here's what you should do if your child has an injury to their jaw, mouth or teeth.
Recognize signs of a broken jaw. A broken jaw can result in severe pain, swelling, difficulty speaking, numbness in the chin or lower lip or the teeth not seeming to fit together properly. You may also notice bleeding in the mouth, as well as bruising under the tongue or a cut in the ear canal resulting from jawbone movement during the fracture. Get immediate medical attention if you notice any of these signs.
Take quick action for a knocked-out tooth. A tooth knocked completely out of its socket is a severe dental injury. But you may be able to ultimately save the tooth by promptly taking the following steps: (1) find the tooth and pick it up without touching the root end, (2) rinse it off, (3) place it back in its socket with firm pressure, and (4) see a dentist as soon as possible.
Seek dental care. Besides the injuries already mentioned, you should also see a dentist for any moderate to severe trauma to the mouth, teeth and gums. Leading the list: any injury that results in tooth chipping, looseness or movement out of alignment.
Even a top athlete like Zdeno Chara isn't immune to injury. Take steps then to protect your amateur athlete from a dental or facial injury.
If you would like more information about dealing with sports-related dental injuries, please contact us or schedule an appointment for a consultation. To learn more, read the Dear Doctor magazine articles "Athletic Mouthguards" and "The Field-Side Guide to Dental Injuries."
By Princeville Dental
April 28, 2020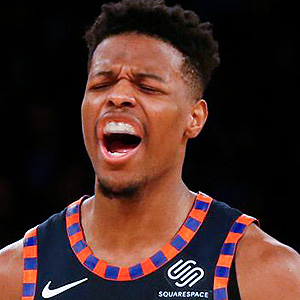 Basketball isn't a contact sport—right? Maybe once upon a time that was true… but today, not so much. Just ask New York Knicks point guard Dennis Smith Jr. While scrambling for a loose ball in a recent game, Smith's mouth took a hit from an opposing player's elbow—and he came up missing a big part of his front tooth. It's a type of injury that has become common in this fast-paced game.
Research shows that when it comes to dental damage, basketball is a leader in the field. In fact, one study published in the Journal of the American Dental Association (JADA) found that intercollegiate athletes who play basketball suffered a rate of dental injuries several times higher than those who played baseball, volleyball or track—even football!
Part of the problem is the nature of the game: With ten fast-moving players competing for space on a small court, collisions are bound to occur. Yet football requires even closer and more aggressive contact. Why don't football players suffer as many orofacial (mouth and face) injuries?
The answer is protective gear. While football players are generally required to wear helmets and mouth guards, hoopsters are not. And, with a few notable exceptions (like Golden State Warriors player Stephen Curry), most don't—which is an unfortunate choice.
Yes, modern dentistry offers many different options for a great-looking, long lasting tooth restoration or replacement. Based on each individual's situation, it's certainly possible to restore a damaged tooth via cosmetic bonding, veneers, bridgework, crowns, or dental implants. But depending on what's needed, these treatments may involve considerable time and expense. It's better to prevent dental injuries before they happen—and the best way to do that is with a custom-made mouthguard.
Here at the dental office we can provide a high-quality mouthguard that's fabricated from an exact model of your mouth, so it fits perfectly. Custom-made mouthguards offer effective protection against injury and are the most comfortable to wear; that's vital, because if you don't wear a mouthguard, it's not helping. Those "off-the-rack" or "boil-and-bite" mouthguards just can't offer the same level of comfort and protection as one that's designed and made just for you.
Do mouthguards really work? The same JADA study mentioned above found that when basketball players were required to wear mouthguards, the injury rate was cut by more than half! So if you (or your children) love to play basketball—or baseball—or any sport where there's a danger of orofacial injury—a custom-made mouthguard is a good investment in your smile's future.
If you would like more information about custom-made athletic mouthguards, please contact us or schedule an appointment for a consultation. You can learn more by reading the Dear Doctor magazine articles "Athletic Mouthguards" and "An Introduction to Sports Injuries & Dentistry."
By Princeville Dental
April 18, 2020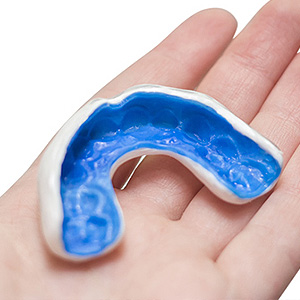 Other than tooth decay, children don't encounter dental disease to the extent adults do. But injuries are another story: More than 5 million teeth are knocked loose each year, and a high percentage involve children. Roughly a third of these and similar children's injuries are sports-related.
April is National Facial Protection Month: Several oral and facial health organizations, including the American Association of Orthodontists, have joined together to raise awareness about the risks of injury to the face and mouth, especially among children. Many of these injuries have long-term consequences with lifetime treatment costs in the thousands of dollars.
But as the name implies, this awareness month is also about protection—what you can do to help your child avoid a costly and devastating dental injury. Top of the list: Have your child wear an athletic mouthguard during all contact sports activities (including practices).
The National Federation of State High School Associations mandates mouthguard wear for football, lacrosse, and ice and field hockey. But those aren't the only sporting activities where a mouthguard should be standard equipment: In fact, basketball has more orofacial injuries each year than any other sport. Generally, mouthguards should be worn for any sports activity that involves potential contact with other players or objects.
There is a variety of mouthguard choices, but most fall into two basic categories, "boil and bite" and custom-made. The former, readily available in retail sports stores, get their name from the procedure employed when first purchased to adjust their fit to an individual player. Out of the package, they should be soaked in hot or boiling water until softened, and then placed in the wearer's mouth to bite down on. After they cool, they'll retain that bite pattern.
Boil and bite guards are relatively inexpensive, but the fit isn't as precise as a mouthguard that is custom-made by a dentist. This can lead to comfort issues—and players are less likely to wear an uncomfortable mouthguard.
Custom mouthguards, on the other hand, have a more accurate fit, allowing them to be thinner and more comfortable. They also provide the highest level of protection against blows to the face and mouth. These are more costly than boil and bite guards, and younger athletes may need a replacement every few years to accommodate jaw growth development. But compared to the physical, emotional and financial cost of a dental injury, custom mouthguards are worth the investment.
A mouth or face injury can happen in an instant and result in damage that can have lingering effects for years. For the best protection, see that your star athlete has and wears a custom mouthguard.
If you would like more information about mouthguard protection, please contact us or schedule a consultation. To learn more, read the Dear Doctor magazine article "Athletic Mouthguards."